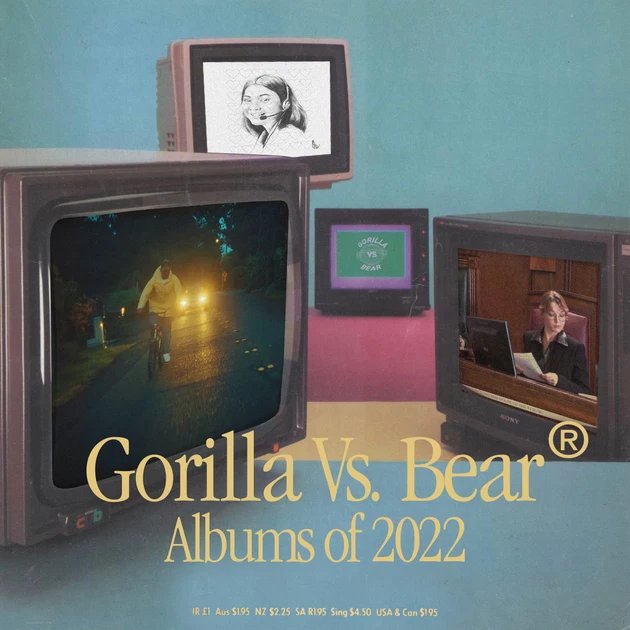 gorilla vs. bear's albums of 2022
Presenting our favorite albums of 2022... As a site that's always been hyperfocused on discovery and emerging artists, this was my favorite kind of year for new music: endless pleasant surprises from new faces, a spectacular top 10 dominated by artists we didn't expect to end up there, a few new classics from old favorites, and as always, a disproportionately high number of Canadians. Check the list below (with blurbs for the top 10) + click the links to buy on bandcamp.
p.s. I will not be ranking Luminelle releases this year or ever again because y'all got mad last time, but a special shout out to Enumclaw's triumphant debut full-length Save the Baby, which means as much to me as any album that came out this year. On with the list...
50 SHINICHI ATOBE | Love of Plastic
49 TAN COLOGNE | Earth Visions of Water Spaces
48 NOSAJ THING | Continua
47 CHARLI XCX | CRASH
46 EKKSTACY | misery
45 JACK J | Opening the Door
44 YASUAKI SHIMIZU | Kiren
43 JANE INC | Faster Than I Can Take
42 TOMBERLIN | i don't know who needs to hear this...
41 PLAINS | I Walked With You A Ways
40 SOFIE ROYER | Harlequin
39 SAULT | 5 albums
38 CS + KREME | Orange
37 HYD | Clearing
36 ETHEL CAIN | Preacher's Daughter
35 HORSEGIRL | Versions of Modern Performance
34 MONSTER RALLY | Botanica Dream
33 PATRICK HOLLAND | You're the Boss
32 OMAR-S | Can't Change
31 AOIFE NESSA FRANCES | Protector
30 EARL SWEATSHIRT | SICK!
29 ROSALÍA | MOTOMAMI
28 SKULLCRUSHER | Quiet the Room
27 DJ SABRINA THE TEENAGE DJ | Bewitched!
26 ALVVAYS | Blue Rev
25 JAMAL MOSS | Thanks 4 the Tracks U Lost
24 ALDOUS HARDING | Warm Chris
23 070 SHAKE | You Can't Kill Me
22 WIDOWSPEAK | The Jacket
21 CARLA DAL FORNO | Come Around
---



20) STEVE LACY | Gemini Rights
---



19) HIKARU UTADA | BAD モード
---



18) BABEHOVEN | Light Moving Time
---



17) GEORGE RILEY | Running in Waves
---



16) WEYES BLOOD | And In The Darkness, Hearts Aglow
---



15) BETH ORTON | Weather Alive
---



14) BURIAL | ANTIDAWN
---



13) BEACH HOUSE | Once Twice Melody
---



12) NILÜFER YANYA | Painless
---



11) PANDA BEAR + SONIC BOOM | Reset
---



10) SHIRLEY HURT | Shirley Hurt
It seems like each year you can count on just a small handful of incredible albums by artists you've never heard of before to emerge, seemingly from out of nowhere (actually it's usually Canada), vivid and fully formed, familiar and warm, destined to become lifelong favorites. The stunning debut full-length from Toronto's Sophia Katz -- aka Shirley Hurt -- is officially one of those rare gems for 2022. It's one of the most beautiful and affecting things you'll hear this year, as Katz imbues these timeless, heartbreakingly poignant songs with a graceful levity that only enhances the record's entrancing emotional pull.



---
09) AXEL BOMAN | Luz / Quest for Fire
Two glorious, sprawling albums of dreamlike house + techno from Swedish legend Axel Boman. The vibe is balmy and loose, if a bit unhinged at times, which can be a lot to take in, but spend some time with these records and watch them magically cohere into your transportive summer jam.
---
08) JUNE MCDOOM | June McDoom
It's been a month or so since New York singer, songwriter, and producer June McDoom dropped her gorgeous self-titled debut, and I've since been fully transfixed by the hauntingly ethereal world she's able to conjure in just over 20 minutes. McDoom counts classic Studio 1 reggae, Kate Bush, soul icon Dionne Warwick, jazz, and her family as major inspirations, all of which make more sense the more time you spend with the record. The songs feel like instant classics, at times recalling vintage folk heroes like Judee Sill and Vashti Bunyan. But like current luminaries/contemporaries Jessica Pratt, Aiofe Nessa Frances and Weyes Blood, McDoom avoids pastiche, creating a singularly vivid, psychedelic dream-folk world that feels timeless and one-of-a-kind, and you get the sense this is just the beginning for her.
---



07) MARCI | Marci
Montreal's Marta Cikojevic somehow managed to balance her dayjob as the keyboard player in one of the best bands on the planet with making a dazzling and infinitely catchy synth-pop masterpiece as Marci. Produced by her TOPS bandmate David Carriere, Marci's deep love and reverence for pop music is on full display as Cikojevic takes us on a playful and absurdly fun trip through the last 40+ years of pop history (only the cool parts though). Another instant classic from the TOPS universe, Marci feels both nostalgic and ultra-modern, like the lost '80s album of our dreams.



---



06) BOYHOOD | My Dread
Caylie Runciman aka Boyhood elegantly touches on new-wave, dub, lo-fi, and sweeping pop nostalgia as she weaves an eclectic, deeply moving collection of perfect pop songs that feel classic, lived-in and raw. At once heartbreaking and hopeful, not to mention endlessly catchy, My Dread is an intensely personal and cathartic journey (a world-stopping pandemic, new motherhood!) that was years in the making, and I hope y'all love it as much as I do.



---



05) SAM GENDEL + ANTONIA CYTRYNOWICZ | LIVE A LITTLE
"We're actually making an album!", beams 11-year-old Antonia Cytrynowicz near the end of LIVE A LITTLE, sounding psyched and rightly proud — if a bit incredulous, and with just a touch of tween defense mechanism sarcasm that I instantly recognize as the father of an 11-year-old girl — at the magic she and her accomplished collaborator Sam Gendel have just conjured. She proceeds to work out the song's lyrics, melody, and tempo on the spot like a pro with Gendel, just as the duo did on the rest of the album, all fully improvised "one late summer afternoon" in Gendel's Los Angeles home. The resulting collection of jazzy avant-pop songs is sweet and playful, heartfelt and real, an often haunting and always entrancing document that feels utterly unique and fleeting. Think somewhere between Tirzah's Devotion and Chandra's 1980 classic Transportation, two albums that I love dearly, and you're on the right track.



---



04) MJ LENDERMAN | Boat Songs
On the eminently relatable-to-me Boat Songs, MJ Lenderman sings about Jackass, Six Flags Over Texas, and various sports legends (Jordan, Brady, and Marino all get shouts here), but manages to make things feel warm, alternately poignant and funny, and deeply affecting. Like our other current guitar heroes Enumclaw, Lenderman has a gift for making easy, seemingly tossed-off jams feel like heart-on-sleeve anthems that you've known forever.



---



03) VOICE ACTOR | Sent From My Telephone
Voice Actor's massive, utterly hypnotic, 109-track, three-and-a-half-hour-long Sent From My Telephone feels like the kind of hidden gem that definitely would've been a modest blog hit back when people wrote about mysterious new artists with genuine breathless excitement; it's a hazy, dreamlike union of a bunch of our favorite things -- '90s hip-hop sampling, Félicia Atkinson's hushed, mesmeric spoken word, Mica Levi + Tirzah's magical collaborative work, woozy trip-hop, eerie and obscure lo-fi folk, Dean Blunt, etc. -- that becomes more captivating, disorienting, and impossible to shake the deeper you get. Sent From My Telephone is sequenced in alphabetical order, so I don't think the artist would be too bothered if you threw this thing on shuffle and let it creep up on, disarm, and ultimately astonish you with its fathomless breadth and scope.



---



02) BILLY WOODS | Aethiopes
woods has been on a brilliant and frankly unprecedented run for a long time now, and that continued into 2022 as he dropped two of the year's best rap records. And with producer/collaborator Preservation providing an immense psychedelic backdrop here, he's reached a dizzying peak on Atheiopes. This is an impossibly elaborate and compelling labyrinth of a record -- "cinematic" is the word that comes to mind, but that would be an understatement -- with enough devastating, jaw-dropping lyrical revelations to legit put woods up there on a GOAT level.



---



01) JOCKSTRAP | I Love You Jennifer B
We've been huge fans of what UK artists Georgia Ellery + Taylor Skye aka Jockstrap have been doing for a few years now, and I Love You Jennifer B feels like not only a culmination for the duo, but a realization of what is possible in pop music: a dizzying, monumental, experimental masterpiece from two low-key virtuosic geniuses that manages to transcend all of the promise of their stellar earlier work. We toss around the phrase "genre-defying" a bit around here, but this one's magical, beautiful amalgamation of pop music past, present, and future is genuinely impossible to classify.



---
GORILLA VS. BEAR's ALBUMS OF 2022
01 JOCKSTRAP | I Love You Jennifer B
02 BILLY WOODS | Aethiopes
03 VOICE ACTOR | Sent From My Telephone
04 MJ LENDERMAN | Boat Songs
05 SAM GENDEL + ANTONIA CYTRYNOWICZ | LIVE A LITTLE
06 BOYHOOD | My Dread
07 MARCI | Marci
08 JUNE MCDOOM | June McDoom
09 AXEL BOMAN | Quest For Fire / Luz
10 SHIRLEY HURT | Shirley Hurt
11 PANDA BEAR + SONIC BOOM | Reset
12 NILÜFER YANYA | Painless
13 BEACH HOUSE | Once Twice Melody
14 BURIAL | ANTIDAWN
15 BETH ORTON | Weather Alive
16 WEYES BLOOD | And In The Darkness, Hearts Aglow
17 GEORGE RILEY | Running in Waves
18 BABEHOVEN | Light Moving Time
19 HIKARU UTADA | BAD モード
20 STEVE LACY | Gemini Rights
21 CARLA DAL FORNO | Come Around
22 WIDOWSPEAK | The Jacket
23 070 SHAKE | You Can't Kill Me
24 ALDOUS HARDING | Warm Chris
25 JAMAL MOSS | Thanks 4 the Tracks U Lost
26 ALVVAYS | Blue Rev
27 DJ SABRINA THE TEENAGE DJ | Bewitched!
28 SKULLCRUSHER | Quiet the Room
29 ROSALÍA | MOTOMAMI
30 EARL SWEATSHIRT | SICK!
31 AOIFE NESSA FRANCES | Protector
32 OMAR-S | Can't Change
33 PATRICK HOLLAND | You're the Boss
34 MONSTER RALLY | Botanica Dream
35 HORSEGIRL | Versions of Modern Performance
36 ETHEL CAIN | Preacher's Daughter
37 HYD | Clearing
38 CS + KREME | Orange
39 SAULT | 5 albums
40 SOFIE ROYER | Harlequin
41 PLAINS | I Walked With You A Ways
42 TOMBERLIN | i don't know who needs to hear this...
43 JANE INC | Faster Than I Can Take
44 YASUAKI SHIMIZU | Kiren
45 JACK J | Opening the Door
46 EKKSTACY | misery
47 CHARLI XCX | CRASH
48 NOSAJ THING | Continua
49 TAN COLOGNE | Earth Visions of Water Spaces
50 SHINICHI ATOBE | Love of Plastic
--
[help us keep GvsB alive forever by supporting us directly on Patreon. patronage includes exclusive mixes, playlists, bonus posts + more]